WP User Frontend Pro is the ultimate frontend builder plugin for WordPress. It is a versatile, multi-functional user registration form plugin. That lets users manage everything from the front end without visiting the admin panel. It is designed and featured to deliver a wide range of powerful forms.
WP User Frontend Pro is the best WordPress plugin to create a form. Easily build forms with the help of the drag-and-drop form builder.  Build Registration Forms, Profile builder, post submission, Woo Commercial Products, guest blogging form, custom taxonomies, custom fields, drop-down selection menus, & Contact Forms to support Custom Post Types. Similarly, one can easily build unlimited forms of different post types as it can create any sort of form you may conceive mind using the plugin. You can use it for making content submission forms, subscriptions, frontend user profiles, memberships, and many more.
WP User Frontend Pro lets your users manage everything from Frontend. So there is quite a flexibility, Users can effortlessly build Registration Forms, edit their Profiles, and new posts and edit them from the external interface, they can view their pages in the external interface from the user dashboard, manage Administrators level to access the WordPress admin panel. Receive email notifications about new posts, custom options that allow users to access to edit or delete their messages, add attachments from an external interface, and more. Building forms has never been this surprising.
WP User Frontend Pro, it's quite easy to create a beautiful user profile from the front-end.
Salient features WP User Frontend Pro – Ultimate Frontend Solution For WordPress
Drag and Drop Builder:

Easily fill your form with fields using drag-n-drops and a real-time preview that updates as you make changes. You can see what your form will look like eventually from the dashboard. You can select a field, drag it to the builder and drop it where you want.

Live Preview:

WP User Frontend Pro has a live preview feature for all supported forms. You can create the custom form you want and edit it to see its interface.

Submit and update anything from Frontend:

Users can upload files fill out forms, and even enter data with multiple-choice menus. Allow users to update their posts from the front end.

Custom Fields:

Custom field data are viewable to visitors on the front end on single post pages. Create as many custom fields as your form needs. Choose your custom fields from our 17 predefined field types. WP User frontend can also capture custom fields from other installed plugins.

Custom Taxonomies:

Add custom taxonomies to your template. Use them as drop-down lists, multiple selections, or checkboxes.

Custom Post Type Support:

WP User Frontend supports custom post types. So with it, you can create unlimited post type form creation, any type of post/page/custom post type when you're moving from the frontend. Taking the advantage of custom post types will allow you to work on any platform.

Unlimited Forms:

Building unlimited forms. Create as many variations as you like, customize them, and unleash your creativity.

Update Profile from the Frontend:

This WordPress Profile Plugin allows registered users to edit their profile using default fields from the frontend without having backend access. Unlimited fields can be added using PRO.

Guest Posting Support:

Enable guests to post from your site frontend without registering with WP User Frontend, the WordPress User Registration Plugin. Choose to require a name and email address to automatically register and allow them to comment on their posts. Allow email verification for guests.

WooCommerce Support:

Users can create products directly from the interface using the WooCommerce-supported interface form.

Custom Redirection:

Use this to redirect users to a page, a custom page, or show them a flash message after successful posting.

Image Submissions:

Allow users to upload images into posts with file size and file limits. Great for use in normal posts or registration forms.

Set Default Post Status: Y

ou can publish the post directly or put it in pending status for review before publishing. Useful for maintaining the quality of published content and blocking spam posts.

New or Edit Post Notification:

Get notified when users submit posts, even get notified when edits are made. You can get all the article information in the mail without checking your website dashboard. Message titles, content, snippets, tags, categories, and any custom fields are supported in the message. Amazing, right?

Action Hook Fields:

What could be better when you could insert an action_hook into any position of the form and display content from outside the plugin. Yes, I am talking to the programmers in you!

Post Expiration:

Even if you don't use the subscription, you can still expire posts from specific forms. Yes, this is great!

Custom Fields in Admin Area Too:

Do you think you can only use custom fields in the front end, What happens when you want to edit a post from the WordPress admin panel? Oh, don't worry, we've protected you. The same custom field user interface is also for the admin panel

. S

o you can edit it the same way you do at the entrance.

Registration Form Builder:

This WordPress Registration Form Plugin also allows building registration forms using default forms. With PRO, more fields can be added. Add fields and additional elements easily to your registration form.

Assign Roles to Forms:

Enable certain user roles to make posts, and create an unauthorized message you want to show. All forms come with different role settings, such as lifesaver.

Flexibility for admins:

Admins can manage users from the frontend as well as configure from the backend those who can access the dashboard.

Captcha Support:

Get rid of spammers by the most common method, captcha! We currently support reCaptcha and Real Simple Captcha tools.

Post Listing:

With a simple shortcode, all user posts can be displayed at the entrance. Users can edit them or delete them. List all your posts at the entrance, and edit or delete them.

Create subscription packs, pay-per-posts & receive payments from users:

Create and subscribe users to membership packs, allow pay per post, force subscription package purchase, and set fallback pay per post charges with this WordPress Membership Plugin.

Integrate with Advanced Custom Fields (ACF):

Connect form fields with ACF fields to view user submissions in ACF format from the dashboard. Allow users to edit fields from the front end.

Get reminded with emails:

Trigger emails on multiple events like new form submission, guest posts, publish the notification, and new subscriptions. With PRO, more email notifications can be set up.

Use anywhere easily with shortcodes:

Create forms; allow users to post anything from the frontend. All of the forms get a unique shortcode which you can paste on any page and the form will generate without breaking the style of your theme.

Publish your WPUF forms using Gutenberg:

Easily add your published forms to Gutenberg editor with the WPUF block. When users want to publish forms on a page, they can select them from the drop-down included in the dedicated WPUF block for Gutenberg. The entire form automatically renders within the editor as well as on-page. It's much easier than manually copying and pasting shortcodes! Saves you a ton of time and clicks. But you can also do it in the old style using the shortcodes block.
Pricing
It has both free and pro versions.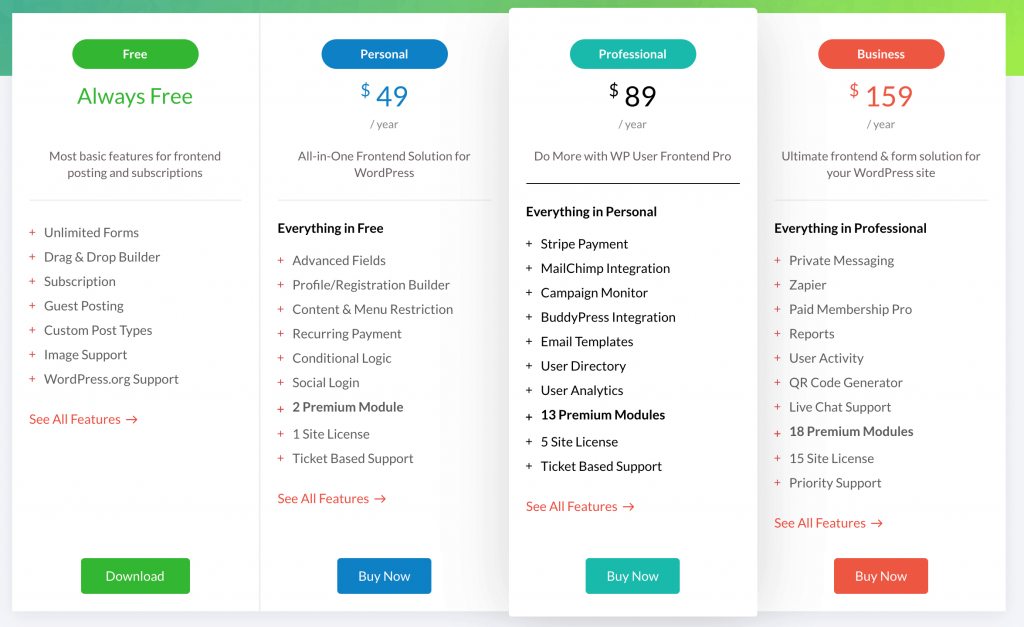 The free WP User Frontend plugin includes a frontend dashboard, frontend editor, and also a frontend uploader for use cases such as WordPress user profiles, post submissions, and memberships.
The Premium WP User Frontend Plugin is divided into Personal for $49 per year, Professional for $89 per year, and Business for $159 per year. It includes lots of features that are out of the box.
Conclusion
WP User Frontend Pro is an all-in-one frontend form builder plugin with the great functionality of frontend posting. Simple drag-and-drop form builder with a real-time preview. Besides this, it allows users to edit, delete their posts, manage and create frontend registration forms with unlimited fields, edit profiles, have access to the dashboard, and also create membership sites with subscription features, accept guest contributions,s and much more right from the frontend. It includes a frontend dashboard, frontend editor & publishing, and frontend uploader for WordPress user profiles, post submissions, and memberships. With more than N users, WP User Frontend Pro is one of the best plugins for the task on the market.
The post contains affiliate links, so we may earn a small commission when you make a purchase through links on our site at no additional cost to you.