Website traffic refers to the volume of web users visiting a website for any reason. Website traffic is measured in visits. How many people visit a website will depend on the website's purpose, the visitors' own goals, and how they discovered the site. Website traffic is a common way to measure online business effectiveness at attracting an audience.
Website traffic is the backbone of your online business. If you want to have a passive income or constant cash flow on your online business, whatever industry you're into, or whatever business niche you're in, you have to also focus on driving high-quality website traffic for your business.
Your organic web traffic is mostly determined by keywords that may likely bring a larger number of your traffic. You surely want to know which keywords bring in the most traffic to your website. Then you need to analyze your website. Which keywords bring the most traffic to your website, which type of posts is most viewed, etc.
There are several ways of how to boost website traffic effortlessly. There are lots of tools available in the market, but here we are using MonsterInsights. MonsterInsights is one of the best Google Analytics plugins for WordPress.
 How You Can Increase Website Traffic?
There are various ways to increase your website traffic:
Choosing the best SEO keywords to get a good site ranking and enable more individuals to visit your site.
 Making use of automated marketing emails to make conversation with your contacts about how your website works and discounts. This can also create the traffic needed for your website.
Staying active on social media and engaging in meaningful conversations with your followers, also providing them with good content will encourage them to click on your website.
Making entertaining video content across all social media platforms for your viewers to increase your visitors.
What is SEO?
Search Engine Optimization (SEO) is a free or organic marketing method that website owners use to bring more organic traffic to websites and increase a website's ranking in search engines for specific search keywords. There are three SEO types to focus on, these are:
On-page SEO – producing and optimizing target relevant content.
Off-page SEO and link building – building website authority and overall page relevance.
Technical SEO – website architecture and how search engines crawl and index content.
Recently, MonsterInsights has added new features called Custom Dimensions and TruSEO by integrating with the All-in-One SEO plugin. This amazing integration solves your problem of getting the right keywords to boost traffic through SEO. The crux of this integration is the blending of focus keyword and TruSEO scores to their supported custom dimensions so that the user can see how they correlate with your traffic in Google Analytics.
AIOSEO (All in One SEO) is a powerful SEO WordPress plugin. It is one of the most powerful SEO today with over 2 million website owners using this plugin because of its smart technology that helps business owners and website owners improve their search engine rankings and Core Web Vitals score. These are very important to rank the website in Google search engine query results.
Key Features of All-in-One SEO plugin:
Analyze your site.
In-depth analysis to improve on-page SEO.
Seo audit to optimize your website.
Scan and optimize your website to check for speed and performance issues.
TruSEO on-page analysis: This is a smart technology that provides in-depth analysis of on-page web optimization. It also recommends how to improve content for SEO scores and readability.
It gives suggestions for the Title tag and the Meta Description.
Identify your site critical issues that could affect negatively your search ranking.
gives detailed instructions to fix a critical error that harms your website rankings.
Custom dimensions are just attributes or tracking parameters of your website visitors. Added on top of predefined dimensions for use in your Google Analytics reports or Analytics plugins like MonsterInsights.
Custom Dimensions allow you insights into the performance of each editor. If you run a blog business as a team, it is helpful to know how many pageviews each editor is getting. You can also analyze the bounce rate and see which editor's posts keep visitors on your site longer.
 Getting the TruSEO advantage
TruSEO is a part of the All-in-One SEO plugin, which provides suggestions on how to improve the on-page SEO of your content by analyzing your content.
TruSEO has two different sections, one is Focus Key phrase and another one is Page Analysis.
Focus Key phrase: It analyzes your content and checks that the content is relevant to your focus keyword.  It gives recommendations based on your content. You can improve the content based on the focus keywords. Also, add additional key phrases for further recommendations.
Page Analysis: Analyzes content and checks if it has passed the basic SEO technique or not. It gives you suggestions to enhance your website using the best SEO practices.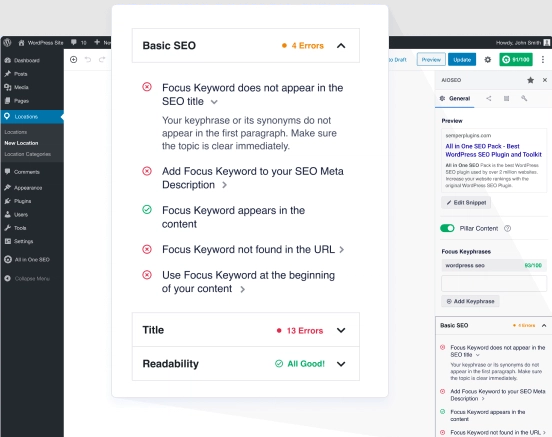 Monsterinsights:  Google Analytics Plugins
Monster Insights Plugin is one of the best Google Analytics plugins you will find for WordPress that allows you to easily add, customize, and manage Google Analytics on your WordPress site. It helps you configure Google Analytics with just a few clicks and without modifying the code.
With over two million active installs, its popularity is immense among all other WordPress Plugins.  It's the most user-friendly Google Analytics plugin that is easy to use and understands. The plugin gives you the much-needed information you need from Google Analytics Dashboard. Its reports are clean, straightforward, and user-friendly, so you can find the data you need to make business decisions and no longer rely on your best guess. It's a perfect way to manage Google Analytics on WordPress, making tracking of site information simple and fast.
Boost website traffic with All-in-One SEO and MonsterInsights
MonsterInsights now takes things a little further, you can integrate AIOSEO focus keywords and TruSEO scores into your Google Analytics data as custom dimensions.
Install then activate the MonsterInsights Pro plugin. Ensure to go through the setup process if it's your first time.
Install, activate and connect the AIO SEO plugin with Google Analytics.
Lastly, once everything is set up. In your dashboard admin menu, head over to Insights >> then click SEO.
How to set up Custom Dimensions?
Go to "Addons" in the main menu. Install "Dimensions" and activate it.
Now, go to Insights > Settings.
 Then, click on the Conversions tab. And then, scroll down to the Custom Dimensions and click "Add New Custom Dimension."
That's all for your WordPress site setting. Next, move on to your Google Analytics account setting. Login to your Google Analytics account and click "Admin." You'll see three main content such as Account, Property, and View.
Property section in the middle, scroll down until you see the Custom Dimensions and click it. You'll need to click Custom Definitions under Custom Definitions.
Then, click "+ New Custom Dimension" to name it. For the name, anything is ok. On the next page, you can just click "Done."
The last step!
Check the index number for your custom dimensions in Google Analytics. And also, check your Custom Dimensions settings in MonsterInsights too. Make sure the Google Analytics Index number and MonsterInsights Custom Dimension ID are the same. If it's the same, click "Save Changes." All set!
You can view the reports inside of your WordPress dashboard now. You don't have to log in to your Google Analytics account. It's all connected.
Best Methods to Use Plugin
There are three ways you can use the plugin to discover the best keywords for organic traffic.
The First Way Is Through the Search Console Report:
It shows you the keywords that are performing the most on your website. When you click on one of the keywords, you will be presented with the number of impressions, the number of clicks, and the average positions per week of that particular keyword.
 This report also displays the terms that give you a lot of traffic on your website.
If you use it. with this data and go forward with this report, you will be able to find the best keywords and similar keyword search topics.
The Second Report You Need Is the Top Landing Pages,
These are found just below the published reports. When you make use of this, you can then monitor the performance of the top landing pages of your website.
 You can make use of this report to spot the best keywords that produce pages that generate high traffic.
 MonsterInsights Custom Dimension Report
The third report that is available for researching the best keywords to use is the MonsterInsights custom dimension report which can be found when you search on the most searched focus keywords.
 If you are using an SEO plugin for your WordPress website and you input a keyword for all your content,
 MonsterInsights can help you set up a custom dimension that helps you keep an eye on which of the keywords you imputed will generate the most traffic, thereby figuring which one is best for business.
This report makes sure you discover which search keyword is performing best by measuring the traffic generated.
It also gives you hints on better keywords that you can use for your website to get the best results.
The benefits of integrating MonsterInsights with All-in-One SEO
MonsterInsights recently updated their plugin and implemented a new integration with All-in-One SEO.
With the use of this integration, you will have a way to better understand your traffic and therefore make the right decisions to grow your business by increasing your traffic volume. 
The combination of these functions will allow you to know: 
If the best-optimized articles are the ones that generate the most traffic?
What are the keywords that generate the most traffic?
Are there any articles that get enough traffic but could get more with little more optimization? 
All in One SEO provides a way to help you focus your writing on the topics you want to rank for. 
This function is the TruSEO score, and the page analysis and you will see it on the edit screen when you create or edit content. 
Multiple keyword phrases are a Pro feature. 
This feature is especially useful when you are writing blog posts where you can write about the main topic (Main Keyphrase) as well as secondary terms (Additional Keyphrases). 
To get a TruSEO score and page analysis results, start by entering the main topic you are writing about in the Focus Keyphrase field and click the Add Focus Keyphrase button. 
Then you can optionally add secondary terms in the Additional Key Phrases field and click the Add Additional Key Phrases button. 
You will see a TruSEO score displayed next to each keyword phrase and in the upper right corner of the screen and on the All Posts / All Pages screen. 
You'll also see our recommendations for improving your on-page SEO under each keyword phrase and in the Page Analytics section.
Conclusion
Using focus keywords and having an insight into your website's performance is significant for boosting your website's performance. Hence, using MonsterInsights and its integration with the effective All In One SEO tool can help your website gain beneficial and productive results. The integration between MonsterInsights and the AIOSEO has been very helpful to all users
The new integration includes the addition of keyword scores from All-in-One SEO and TruSEO to custom dimensions supported by MonsterInsights. This will allow you to see how they correlate with your traffic in Google Analytics.
We hope you found this article helpful on how to boost website traffic with keywords and MonsterInsights.
The post contains affiliate links, so we may earn a small commission when you make a purchase through links on our site at no additional cost to you.