GoDaddy is one of the most popular names in the web hosting industry, serving millions of customers worldwide. It started as a domain name seller and soon became an excellent web hosting provider that provides quick website building tools. They offer a variety of services ranging from website builders and email to domain registration and web hosting.
GoDaddy has over 18 MILLION customers and manages more than 77 million domains, making it the largest domain registrar and possibly the largest consumer webmaster.
GoDaddy  web hosting plans
From bloggers who need an inexpensive option for their site businesses looking for a solution that can handle high volume traffic, GoDaddy offers plans for all types of user hosting.
Shared hosting

WordPress hosting

VPS hosting

business hosting

Dedicated server
At GoDaddy, there are shared hosting plans also available. This is popular with new, beginner sites. Since shared hosting is the most cost-effective way to host a website, with this type of hosting service, you'll share a server with other clients. The sites sharing the server compete for resources, including transit and storage space.  It's suitable for small and medium projects that don't require top-performing servers. We are talking about a small business or a personal site that may only have a couple of pages. That means it is not the most powerful level of hosting, but if that's not important to you, then shared may be the way to go.
GoDaddy offers several different shared hosting plans.
Economy. If you are just a beginner looking to get into building websites, the Economy plan was made for you. Starting at just $5.99/month when billed annually, the Economy option gets you 1 website and includes 100 GB storage, a free email account, and one year of free Microsoft 365 email, 25 subdomains, and more. 
Deluxe. If you are a beginner that needs more than one website, the Deluxe plan is perfect. Starting at $7.99/month, this package gives you everything the Economy plan does but offers unlimited websites and unlimited sub-domains, as well as unlimited storage.
Ultimate. If you expect your website to get a lot of traffic, opt for the Ultimate plan. This has everything the Deluxe does, offers free premium DNS plus, a free SSL certificate for one year, and more power to deal with the additional site traffic. This plan starts at $12.99/month.
Maximum. If you need your website to support quality photos and videos, and you plan for the site to be more than just basic, Maximum may be your best bet. This package offers twice as much CPU and 4 times as much RAM and starts at $19.99/month. With this plan, you get unlimited SSL for all of your websites.
GoDaddy WordPress Hosting
Since WordPress is the most popular CMS in the world, there's a good chance that you might be currently using it or considering it for your website. For those who are new to websites, WordPress may be your best friend. You don't need to learn any coding to use WordPress, though you can if you want to further customize your site.  It will make hosting and building your website much easier and a much smoother process.
All of the following WordPress hosting plans include automatic security updates, a one-click migration tool, a drag-and-drop page editor, and access to thousands of free themes and plugins. GoDaddy also does nightly site backups and automatically updates you to the newest WordPress version if you choose one of these plans. The WordPress plans also come with pre-built site templates as well as drag-and-drop page editors. This is a nice feature to have if you're creating a new website. 
Basic. For a small site that's just getting started, the Basic plan is all you need. This allows you up to 25,000 visitors a month and 30 GB of storage. The starting price for this is $6.99/month.  Other features include website backup protection, automatic daily malware scans, one year of free business email, a free domain for the initial term, and free SSL for the duration of hosting.
Deluxe. Deluxe plan that allows you up to 100,000 monthly visitors as well as more help boosting your SEO. This package starts at $9.99/month. Other features 75 GB storage and bandwidth suitable for up to 100,000 monthly visitors. SEO optimizer and one-click testing site.
Ultimate. The ultimate plan will give you unlimited visitors. It will also give you unlimited storage, bandwidth, as well as other features for $12.99/month. Also includes unlimited malware removal and hack repair.
Ecommerce: An eCommerce plan is great  For those who are looking to sell on their website. It gives you unlimited features from the Ultimate plan, but with an eCommerce bonus. This plan is $15.99/month.  It also includes features for managing an online store, such as unlimited product listings, real-time shipping rates, and free access to over a dozen top WooCommerce extensions.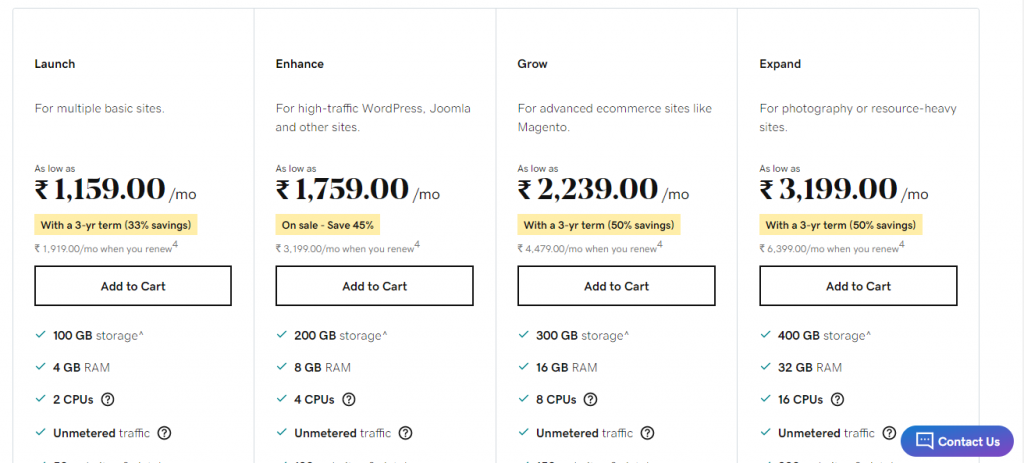 GoDaddy VPS Hosting
VPS, or virtual private server, hosting is exactly what it sounds like. You're paying for space on a shared server, but one that does much more to isolate you from your server mates than plain old shared hosting does. A VPS-hosted website will see much quicker speeds and performance thanks to the fact that there are servers allocated specifically for your website, and your website only.
GoDaddy VPS plans are for those with special server configuration needs. With root access, you'll be able to configure your server to your preferences. They also come with a higher performance than shared hosting plans. VPS plans at GoDaddy web hosting plan start at $6 a month (self-hosted) and can go all the way up to $174 per month.
GoDaddy VPS is best for those of you who have multiple websites or an eCommerce website. It's also common practice for a GoDaddy VPS to be used as a test environment for both websites and apps. You can also use a GoDaddy VPS as an email server or database server.
GoDaddy's VPS plans begin with a $7.99-per-month, Linux-only starter plan with a single CPU core, 1GB of RAM, and 20GB of SSD storage. The specs top out at eight CPU cores, 32GB of RAM, 400GB of SSD storage, and a free SSL for one year for $149.99 per month. That's good stuff, especially if you sign up for a multi-month plan.
These prices are for the Standard RAM plans. You can pay a little more per month for a High RAM plan, which doubles the amount of RAM on your VPS. The higher up you go in each VPS hosting plan, the more memory and storage space you get.
 Thus, if you are looking for a fast website that generally runs better, VPS hosting may be for you.
GoDaddy Business Hosting
For the basics on multiple websites, GoDaddy's Launch package is a great place to start. This gives you all sorts of features to help get your business started and is priced at $19.99/month.
Enhance. If you expect your website to be high-traffic, then Enhance is what you want. This plan gives you more storage and RAM and starts at $34.99/month.
Grow. For those who want eCommerce to be a part of their website, the Grow plan may be just right. It supports eCommerce sites such as Magento and starts at $44.99/month.
Expand. If photography will be a major part of your website or other resources, then Expand is worth considering. It offers 150 GB of storage, 8 GB RAM, and 4 CPUs, along with much more. The price starts at $59.99/month.
GoDaddy Reseller hosting
If you're looking to get into the web hosting business, but you don't want to deal with infrastructure matters, check out GoDaddy's reseller hosting packages. Reseller hosting is appealing to developers, designers, and agencies looking to earn some additional profits from their clients. GoDaddy makes it easy for you to configure each hosting plan while providing tools for things like invoicing, payment options, and managing support tickets.
Furthermore, GoDaddy will let you sell additional products to your clients, such as other GoDaddy products as well as other third-party products. This is a nice way to provide an all-in-one solution to your clients while simultaneously increasing your margins. The servers have the same RAM and storage amount
Dedicated Server
Dedicated server hosting is perfect for those who have traffic volumes that will surpass the VPS plan limitations. It is the tier you need when you operate a site that demands lots of system resources. This type of hosting comes at the highest price; it also comes with the most power and the most control.
Dedicated hosting is not for everyone. If you're a small website or building a new site from scratch, you'll be just fine with a GoDaddy shared plan. The dedicated servers are best for bigger websites that need complete control and flexibility. If you are a bigger website that needs the control and flexibility of your server, this is for you.
GoDaddy's dedicated servers come in many configurations. You can also select either the Linux or Windows operating systems. The different dedicated hosting plans each offer more storage and RAM than the previous ones, with DS-256 maxing out the RAM at 256 GB. With these, you'll have your server for yourself and won't have neighbors interfering with your project.
EASE OF USE
WordPress Hosting is Simple
 One-click WordPress installation 
Choosing Your Plan Can Be Tricky
The main thing to note about GoDaddy's plans is that there are not a lot of details. It gives you the basic details and tells you what one plan has that the other doesn't, but I couldn't find any technical details anywhere.
Connecting Your Domain Is Hard
connecting the domain without my screenshot proved to be a ridiculously difficult task, as it couldn't find those records anywhere. The main account area has almost no information in general, and most of the tabs are filled with services that are available for purchase – ones that aren't included with your plan.
sneaky signup addons
Sneaky stuff during signup, too. If you're not experienced with web hosting, you don't want to be dealing with this kind of thing. When you bought a domain from others then there is a headache coming for you.
Buy your domain name from GoDaddy, for easy connection on. That makes me think it's trying to get you to buy your new domain name directly from it.
It Got Better On the WordPress Hosting Plan
At least installing WordPress was easy – and on the WordPress hosting plan it was ridiculously easy. So easy, it almost seemed too good to be true! There's an installation wizard that takes you through the whole process, including choosing a theme, so it's 100% beginner-friendly.
Performance
Performance is a vital consideration when choosing a web hosting plan. Website optimization will only take you so far if your server is sub-par. Godaddy uses a website monitoring tool to track websites' uptime over two weeks. Every 15 minutes, the tool pings websites and sends an email if it is unable to contact any sites for at least one minute. The data revealed that the test site didn't go down once during the observation period.
CDN integration.  GoDaddy's WordPress plans provide out-of-the-box CDN integration for increased site speed.
Load-balanced, clustered server environments. GoDaddy's servers are optimized for WordPress. Additionally, they're prepared to handle traffic spikes that might otherwise crash your site.
99.9% uptime guarantee. GoDaddy provides an uptime guarantee in its contracts that enables customers to request account credits in the amount of 5% of their monthly bill if it fails to meet the minimum requirement.
GoDaddy's Basic WordPress hosting plan, nothing here stands out as particularly unique or better than other providers. However, you can rest assured that you're at least receiving decent performance optimization. GoDaddy offers exceptional load times when compared to other cost-effective competitors. No one wants to have a slow hosting provider. Website visitors hate having to stare at a blank page that never seems to load.
Basic load testing with Load Impact
Minimum response time: 0.63 seconds
Maximum response time: 0.83 seconds
Excellent Customer Service
GoDaddy has 24/7 telephone support and lives web chat support.  GoDaddy offers a 30-day money-back guarantee for annual plans, with a 48-hour refund for monthly plans.
Pros and Cons of GoDaddy Hosting
Pros
Wide selection of hosting plans

Linux- and Windows-based servers

One year of Microsoft 365 email is included for free with all shared hosting plans

24/7 phone and live chat  customer support

High-quality video guides

Top-notch uptime

Useful website-builder software

Unlimited Bandwidth

beginner-friendly.
Cons
Affordable, but cheaper plans are available elsewhere

Lacks cloud hosting

Doesn't offer much default email

Unless you purchase their paid add-on, there's not a backup system in place.

Unlike some other hosting providers, they won't help you migrate your websites from another host.

GoDaddy has A LOT of upsells.

GoDaddy says almost nothing about its hosting security.
Conclusion
GoDaddy is a robust web hosting service that offers well-integrated Microsoft Office email features and excellent hosting plans. We recommend the GoDaddy web hosting plan and domain registration solution. they provide solid solutions. GoDaddy truly offers something for everyone. While you won't have any problems with GoDaddy per se, it may not give you the level of satisfaction that you can find elsewhere on our list of best web hosting services.
The only downside is that, while GoDaddy's shared hosting and WordPress plans are quite affordable, other providers offer lower prices. So if you're looking for the best hosting service provider, GoDaddy deserves to be on the list for all of the benefits that we listed in this review. Just make sure to be aware of any potential drawbacks before you make a final decision.
The post contains affiliate links, so we may earn a small commission when you make a purchase through links on our site at no additional cost to you.