If you're seeking great, feature-rich, yet free WordPress themes for your site, you are in right place. Because we'll be showcasing the best free WordPress themes to assist you in creating the greatest potential website.
Visitors can and will leave your website if the content and style are unappealing. 75% of consumers will rate a company's reliability solely on the aesthetic style of its website.
To be honest, you can find an infinite amount of free WordPress themes on the internet today. WordPress.org itself contains over 9000 free WordPress themes. As a result, you'll want assistance in selecting the ideal one for you.
Some free WordPress themes, on the other hand, are simply too good to pass up. Some of them are not only beautiful to look at, but they also perform better than paid themes. That's what we're looking at today: a collection of free WordPress themes that you can proudly claim. 
Free themes are wonderful for amateurs, bloggers, and those who just want to keep an online record of their ideas. But they also perform brilliantly for real businesses looking to save money for other projects.
Installing a WordPress theme might be a wonderful place to start. Furthermore, because there are dozens of free themes accessible, it is the most cost-effective solution for creating. From parallax effects to gorgeous booking pages, each of these themes offers an impressive component.
You'll be able to choose a free theme that will increase your company's reputation. While exactly complementing the style of your brand with the use of this information. We've gathered the most popular free WordPress themes for blogs, online portfolios, company sites, online stores, and other similar purposes. Furthermore, some of them are versatile themes that may be used for any website specialty.
Best Free WordPress Themes Short List
 Log Book is a simple, clean, creative responsive blog theme. Focusing on writers, Bloggers, travelers & photographers who wish to share their incredible stories on different niches like lifestyle, travel, food, technology, fashion, etc. 
Log Book theme comes with classic styles that help to create a simple and clean blog. It's easy to set up. It has great typography to make your fans and followers focus on every word you write. All in all, it's a perfect theme for both beginners and advanced bloggers to create a quality blog website. 
Blog web is a beautiful blog-style theme suitable for both Personal and Multi-Author. A Perfect for Personal, Lifestyle, health & fitness, food, cooking, bakery, travel, beauty, fashion, wedding, photography, news, and quotes blog. If you are thinking about having a blog, Blog web is the best choice for you.
 Blog web is a clean and trendy WordPress blog theme focusing on the most important aspect of any content of the blog, whether you are a complete novice just starting your blog or a serious content marker, who writes daily, Blog web is the ease of use and flexibility offers something for any kind of blogger.
Web Log is a clean SEO-friendly blog theme with minimal design architecture. It is a cool and perfect theme for writers who need to create simple and creative personal blogging sites. The main objective of this theme is to create effects to make readers feel the pleasure of reading blog posts and articles.
Among the various other free WordPress themes available in the WordPress repository, Web Log is the best among them. The main attribute is classic styling which helps to create a simple and clean blog. With a list view and grid view, this theme is perfectly eye-catching. Web Log can be used for Travel, Fashion, Beauty, Lifestyle, and many more.
A powerful yet lightweight and flexible multipurpose theme for any kind of business, organization, or freelancer site. It is integrated with Elementor page builder for creating attractive-looking websites, you can create a great-looking website with all necessary functionalities, without any hassle. This theme is powerful with a lot of customization options and flexible at the same time. Thanks for bringing a wealth of customization options, you can easily create a site for your business that fits your style and needs.
 The theme is great if you want to start a website from scratch or you can also use a pre-made template from the available collection of Elementor layouts. It is all very easy, even for WordPress beginners. Moreover, the theme provides you with multiple demos that can be imported and installed on your WordPress website in just a single click.
Striking free WordPress theme for Businesses that you need to build an effective online presence on the internet. This is a wonderful and creative business WordPress theme. It is perfect for any kind of projects such as business, company, corporate websites, and blogs of all sizes. You can create an eye-catching home page using the 11 predefined blocks that come with the theme, and build the homepage that best suits your company.
 Each of the blocks that go on the homepage can work with parallax backgrounds to ensure that your site stands out from the competition. You can even set the background colors for the blocks. Several cool animations and effects are included with the theme, and the two blog layouts help with your visual presence. It can all be done with real-time previews using the Live Customizer. The theme is also ultra-responsive, cross-browser compatible, and even translation ready.
Astrid is a quick WordPress business theme with an inbuilt feature to make a magnificent business website, in no time. All the Elements you need are sitting tightly for you around here subjects: shading alternatives, textual styles, full-width header picture, custom gadgets, blog alternatives, and numerous other fascinating and helpful choices. One can use a custom widget and template to create a customized business layout with Astrid.
 Astrid is a business theme with a sleek and modern look. It's very easy to set up. You can have your site up and running in just 5 minutes. It also comes with features including Google fonts, color options, a full-width header, custom widgets, blog options, and more. This theme also has a header image for customizing the image of your desire with a call-to-action message and a button on top of it.
Leto is a free eCommerce theme by athemes that works incredibly for any sort of shop website. Leto highlights shading and textual style alternatives, blog choices, joining with the Page Builder module so you can without much of a stretch form your landing page or different pages and a lot progressively other valuable highlight. This theme comprises custom color features, to build an elegant design for your website.
 Leto is a free eCommerce theme, deeply integrated with the hugely popular WooCommerce plugin so, setting up a prosperous e-store has been easy, with this theme you can establish an online business in different niches like furniture, digitals, sports, technology, fashion, etc.  It comes with some useful built-in widgets so you can easily create your shop's homepage.
The business theme that intended for businesses and freelancers that wish to establish a powerful online presence. The customization choices are rather extensive, with Google Fonts, logo uploads, and other features. The full-screen slider is ideal for displaying huge photos or promotional banners, while the complete color control provides the perfect branding environment. Sticky navigation aids in site navigation, and the front-page blocks function as a drag-and-drop interface for professionally constructing a tidy interface.
The theme is responsive for viewing the site on mobile devices, and it includes over 600 Google Fonts for customizing your font. This theme is fully translation-ready, so you may reach out to those who don't understand your language, and the parallax backdrop provides a creative element to your site. You may use a static picture or a slider, as well as social icons to direct them to your Facebook and Twitter sites.
Zakra
The Zakra theme is a beautiful, modern, and flexible theme suitable for a variety of sectors. The theme includes various demos ranging from business to e-commerce. Zakra may also be used to establish a personal or business blog. The theme is incredibly adaptable, with a beautiful header space where you can put a background picture and a call to action that guides visitors to your most crucial page.
There is also plenty of room to highlight your company's offerings, as well as the opportunity to display team members, testimonials, client logos, and elegant counters. The Zakra theme includes the Elementor page builder plugin and the Gutenberg editor. Furthermore, it is GDPR-compliant and easily customizable. You may specify a custom brand color and select from numerous different header designs. There are also seven widget spaces, basic layout settings, and a plethora of font options.
The Zakra theme is SEO friendly, which will help you rank higher in search engines. It also loads quickly and includes demo material, which will help you speed up the design and setup process.
Neve
Look no farther than the Neve theme if you want a sleek and speedy theme that also works with your chosen website builder. This theme works not only with page builder plugins like Site Origin, Divi, Elementor, and Brizy but also with Gutenberg. In terms of style, the theme has a clean design that lets your content stand out, making it ideal for small businesses, freelancers, and agencies looking to enhance their conversion rate. You may change the color, typefaces, and other visual aspects, as well as select from a range of backdrop options such as sliders, photos, video, and more.
The Neve theme also has giant menus for easy navigation and adding as many pages as you like without overwhelming your visitors. Furthermore, the theme has been tuned to load quickly and is completely responsive. You may install demo material with a single click and refer to help manuals, forums, and video tutorials for assistance. What distinguishes the Neve theme from other free themes is that, in addition, to supporting documentation, you can also obtain help from the authors. Overall, the Neve theme is worth a look if you want a quick, clean, easy-to-use theme that was also designed for search engines.
Astra
Astra is a versatile WordPress theme that has swiftly gained popularity and continues to dominate sales. It's enticing because it meets up to the expectations. It's quick and very configurable. This theme is sturdy and comes with several pre-built websites that you can choose from and deploy quickly. You may change it without touching a line of code. You may also use it alongside numerous page builders.
Astra also has style settings, header choices, color and typography modification options, and greater performance due to its lack of reliance on jQuery and a load time of 0.5 seconds. Another thing to be aware of is the extensive number of accessible integrations. To mention a few, Astra works with WooCommerce, Beaver Builder, Elementor, Toolset, Yoast, and LearnDash. Finally, this theme is user-friendly, SEO-friendly, employs hooks and filters, is translation-ready, and has a comprehensive knowledge base.
GeneratePress
The reviews are in, and users and bloggers all over the internet agree that GeneratePress is an excellent theme, especially when combined with drag and drop editors like Elementor. It's easy, clean, and contemporary, allowing anybody with any skill level to dive right in and start customizing. The amazing thing about GeneratePress is that anyone can install it and start blogging in minutes. For more sophisticated developers, it's a free WordPress theme that's fast, lightweight, and extremely configurable. Not only that, but a premium edition with everything from gorgeous typography to WooCommerce support, sections to complex menus is available for a fair fee.
However, this is mostly about the free version of the GeneratePress WordPress theme. It is, as previously stated, a lightweight theme (at less than 1MB zipped). This is amazing for any theme, and it comes into play when you want to make your site as quick as possible. Furthermore, the GeneratePress theme includes clean coding that adheres to WordPress coding standards. As a result, it is compatible with all well-coded plugins, which reduces difficulties in the long term. The theme is available in over 20 languages and has nine widget places for getting creative. There are also five menu navigation slots, drop-down menus, and several sidebar layouts.
Hestia
When looking at free themes, make a list of all the features you'd expect from a commercial solution. The premium features of Hestia are outstanding. However, there is no cost to download Hestia and install it on your WordPress site. To begin, the theme has a minimal, material style that allows for rapid setup and great user interactions. The responsive layout looks great on all mobile devices, and the multi-purpose functionality guarantees that it can be used by a wide range of organizations. I would recommend the theme to startups and small enterprises since it has a lovely slider space for marketing and discussing what your company is all about.
The WooCommerce connection is the primary reason you might choose the Hestia WordPress theme. This displays sleek and fascinating product listings, with a concentration on galleries. The drag-and-drop content builder is intended for developers of all skill levels. Beginners do not want to deal with code, and professional designers want to speed up their process. The theme comes with several translation tools and unique background options for personalizing your site with your images. The one-click installation is a benefit, and the mega menus are fantastic tools for directing visitors to hundreds of different pages on your site.
ColorMag
ColorMag is a popular online magazine theme. It's built with speed in mind, which makes the site load in under one second. it is pretty much the ultimate solution for making a beautiful magazine website.
The news ticker on the header section displays the latest headlines at the top of the page. Additionally, one can use the slideshow to display important news on the front page. In addition, you'll gain access to various social media buttons, which is rarely the case with free themes. Therefore, your magazine followers have a chance to follow you on places like Facebook and Twitter.
ColorMag is also compatible with popular page builders and is WooCommerce-ready, allowing you to incorporate a paid subscription service to your online magazine website. ColorMag theme integrates with just about any plugin you can imagine. So if you'd like to install some plugins you wouldn't have any problem implementing an online store.
Overall, the functionality of the ColorMag WordPress theme is fairly basic. You shouldn't have any problems if you're not an experienced developer, but more advanced designers will still find it pretty impressive. The simple backend is useful for developers, and you shouldn't have trouble managing multiple authors who write for your magazine.
Cenote
Cenote is a beautiful WordPress theme for blogging. There are a couple of pre-made website templates to choose from – one built for fashion blogs and another designed for technology blogs. If blogging is your passion and you want a blog site then, Cenote is undoubtedly the best theme for you. It's one of the most aesthetic yet free WordPress themes for blogging. It's a modern era theme with a clean and neat design to provide you with the best blogging experience. 
This theme comes with a variety of demos that you can use for a multitude of different blog styles, including food, travel, business, fashion, and more. This makes it even more straightforward to get your blog up and running. Simply select a demo, import it, customize its presentation, then add your content. That's all there is to it.
The theme is highly customizable. You just have to drag and drop the elements to add new features. It provides multiple widget areas and custom widgets. It supports multiple post formats, such as videos hosted on TED, Vimeo, and YouTube, and audio files that are either from SoundCloud or self-hosted.
OceanWP
OceanWP is one of the most popular free WordPress themes. It includes lots of features that you normally only see in premium themes. Some of them include multiple layout choices, fullwidth pages, 2 navigation menus on the top, custom logo support, multiple sidebar areas, beautiful image galleries, and more. It is super flexible but still very easy to set up. It also has live customizer support.
OceanWP can be used for any kind of website, including blogs, magazines, business websites, or eCommerce stores. It's a great theme for eCommerce websites as well. The WooCommerce integration and the theme's native online store features, such as a shopping cart pop-up and multiple checkout options, will help build a great eCommerce site in no time.
This multipurpose theme is compatible with popular page builder plugins, including Elementor, Beaver Builder, and Divi. Thanks to its extendable codebase, OceanWP is an excellent tool if you're a developer planning to add your customizations. It also includes built-in SEO features to help you optimize your site with ease.
Ashe
The Ashe WordPress theme is a solid theme choice for many different types of blogs. It could be utilized for fashion, photography, health, food, baking, travel, beauty, personal, and many more niche blog categories. Why is it so versatile, you may be wondering? Quite simply, its minimal style is elegant and refined, making it a go-to choice for those who want to make it so their content stands on its own two feet.
Some features include a mobile-friendly design, WooCommerce support, and good documentation. It's also designed to be fast and works well with many other popular plugins. It's translation-ready, RTL-ready, SEO-friendly, and makes customization easy. A few things you can modify include the logo, header image, fullscreen slider, Instagram slider, footer menus, and a lot more. Plus, it's compatible with most drag-and-drop page builders including Beaver Builder, Visual Composer, Elementor, Divi, SiteOrigin, and others.
Storefront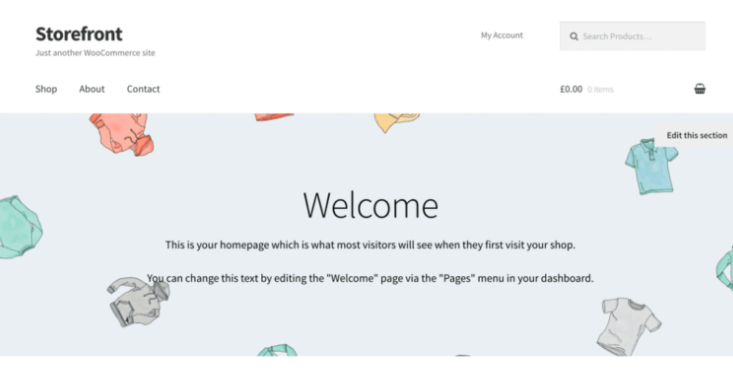 Storefront is a WooCommerce theme built by WooCommerce core developers. This means you don't have to worry about any compatibility issues, especially whenever there's a major update on WooCommerce. Several layout and color options are provided for customizing your store, and multiple widget regions come along with the download for quickly managing a clean interface.
Multiple color choices and responsive layout options let you extensively customize the shop. If you need more, Storefront Extensions offer such features as a blog customizer, parallax hero component, and hamburger menu.
Kadence
Bold, beautiful, and fast, Kadence is a fabulous free WordPress theme with a responsive design. This is a relatively new theme that is both feature-rich and lightweight theme for WordPress. It comes with a built-in drag-and-drop header and footer builder, a library stocked with starter templates, and extensive integration with many popular plugins. The theme enables you to unlock the endless possibilities to customize your header and footer with an intuitive drag and drop builder. You can easily change fonts colors, and backgrounds, make your header sticky and do more.
Likewise, the advanced typography option lets you modify the site-wide fonts to match your style. Plus, you also get full control over your website layout. Further, well-designed and great-looking starter templates offered by the theme make it super easy to get started with your site.  It helps optimize your website loading speed without sacrificing your design options. However, it might be the perfect choice if you're looking for a beginner-friendly theme that doesn't come with an overwhelming amount of settings and options.
Orchid Store
As an e-commerce business owner, you may want to keep your theme simple and let your products do the talking. If so, Orchid Store might be right for you.
This freemium option is both clean and flexible. It can be used for just about any type of online store, from fashion and apparel to furniture and technology. It includes a live customizer that makes designing and customizing your store a breeze, and it is compatible with many popular plugins, including WooCommerce and Elementor.
Orchid Store also comes loaded with important widgets that can help you make the most of your online store. This includes elements for creating Calls to Action (CTAs), advertisements, and much more.
Orchid Store doesn't offer the most sophisticated or elegant design on this list. However, it does serve up a strong array of features and functionality, especially for a free e-commerce theme.
SuperMag
A magazine theme that was developed by Acme Themes SuperMag . This offering can be used for any type of publication or blog, especially those with feature multiple authors. It supports advertisements as well. They can be added via widgets or through the Customizer — it's up to you.
The theme itself is very customizable. You can change out the header, footer, sidebar, inner sections, and the homepage itself to suit your branding and style. You can change the site's color scheme easily (with one click) and make use of advanced widgets to add a variety of features all over the site. Other features include a breaking news option, featured images for categories, breadcrumb navigation, social media integration, and more. Finally, the theme is compatible with WooCommerce and can be used with the most popular page builders.
MH Magazine Lite
MH Magazine Lite is one of the top free solutions for those who want to make an online magazine. The responsive design has various modules for cramming tons of stories onto your site, and they all snap into place when a visitor is viewing the site on a mobile device. You can choose to upgrade to the premium version, but the free options provide most of the features you would need to run a successful magazine.
For example, the custom widgets help you drag modules onto your sidebars and footers, and featured images support high-resolution photos, and they get cropped to look nice as thumbnails. MH Magazine Lite is completely translatable, meaning people who don't speak your language can read your content without having to go to Google Translate.
OnePress
The OnePress WordPress theme is by far one of the best free themes out there right now because of its simplicity and professionalism. The theme is constructed to help out businesses, large and small. It doesn't matter whether you're selling mobile apps or gardening services, this is the market standard for the way you should present your business online.
To start, the WooCommerce plugin integrates with the OnePress theme, so it's also a wise choice if you plan on selling physical or digital products from the comfort of your website. Moving on, the theme delivers a beautiful responsive layout, with a wide range of backend and frontend features. For example, the slider is one of the more powerful solutions we've seen from free templates, with support for high-resolution imagery, overlaying buttons, and bold text that is bound to grab attention and push users to other parts of your website.
Showcase your features and services in columns, next to icons that are designed to make your website more visual. OnePress is a completely one-page layout, which goes along with responsive construction. You're guaranteed to help your users move around the site a little easier with this design since they don't have to jump around and click on a ton of buttons to find what they want on a smaller device.
Flash
The Flash WordPress theme is free, flexible, and completely ready for your multipurpose needs. it is a fully responsive feature-rich free WordPress template for creating awesome websites. It's a fantastic theme that offers plenty of premium-like customization possibilities as well as professional design for a modern site. it is a multipurpose theme for WordPress. It supports WooCommerce, which allows for online store creation, and multiple page builders for customization, including Elementor and SiteOrigin.
The theme comes with a companion plugin named 'Flash Toolkit' which is specially created to make the Flash theme more user-friendly and easy. There are 11+ custom widgets in the Flash Toolkit which you can drag and drop, reorder and customize anyway, using the SiteOrigin page builder plugin. There are over 15 starter sites to import using ThemeGrill's one-click demo importer. Moreover, multiple blog layouts, header styles, and color options provide a variety of additional customization possibilities.
This truly is a free theme that's jam-packed with premium features. What's more is that a full, filterable portfolio comes along with the Flash theme, just in case you plan on wooing clients with your past work. The slider comes in handy for displaying banner images, and the animated number counter serves those who want to brag about how many clients and projects they have. Along with a full blog, beautiful color options, WooCommerce support, and social buttons, the feature-set for Flash looks better than ever.
Phlox
Highly customizable, multipurpose WordPress theme Phlox. It has a beautiful homepage layout with a fullscreen header background image on top and featured content below. Since it supports the Elementor page builder and includes 30+ exclusive Elementor elements, such as the before-after slider, map integration, and testimonials. It comes with multiple widget-ready areas, page templates, custom headers, backgrounds, social icons, and color schemes. Plus, it makes it easy for you to comply with GDPR.
The theme consists of a modern photo gallery with two arrangement layouts. You can choose from either Grid or Masonry layouts depending on your site's need. Besides, with the customizable eCommerce platform, you can start selling products online instantly. When users open your website on mobile devices, the website images adapt and reduce their size automatically to speed up load time. Mostly to say theme comes with a fully responsive post slider, letting you feature videos, images, and other formats.
Conclusion
In Conclusion, these are the best free WordPress themes that you can find easily. All of these are great themes for your website. Since all the themes mentioned above are amazing, you might not be able to make a decision right there. 
It's essential to have a professional, visually appealing, and responsive design, as it will help you gain conversion rates. Best free WordPress themes can grant you a great starting point to launch your site from, offering pre-made templates and easy-to-use customization tools. Choosing a niche-specific theme can save you time and help you achieve better results.
The post contains affiliate links, so we may earn a small commission when you make a purchase through links on our site at no additional cost to you.