WordPress Newsletter plugin subscription forms plugins are very focused on email marketing. They help you create a sign-up form where users can enter their email addresses. The plugin will then send emails to the email address about your product or services. All of these forms and popups can be easily created by installing a plugin in WordPress.
The WordPress newsletter plugin lets you go one step further and send emails to your subscribers from your WordPress dashboard. This is a great way to facilitate the flow of your work and prevent the hassle of growing your newsletter.
The email newsletter plugin automates the whole process of finding subscribers and sending emails to them. It saves time by not having to send emails manually to individual subscribers. So basically, they help you grow your business. That's why we've listed plugins for the best WordPress newsletter plugins.
Newsletter
The newsletter is one of the best free newsletter plugins available for WordPress perfectly suitable to increase the newsletter subscription on your website — with more than 300,000 downloads. It lets you create, send, track emails, and track their performance.
Using its drag-and-drop composer, you can customize newsletter forms directly from your WordPress dashboard. To get more leads, Newsletter gives the option to add single or double opt-in to your forms. These forms will collect data about the visitors, getting you ahead in growing your newsletter list.
 If you are looking for a plugin to help you with email marketing, this plugin can help you a lot. You'll be able to create forms to grow your list, manage subscribers, and send them emails using a drag-and-drop builder with this plugin. Newsletter allows you to have unlimited subscribers for your newsletter. You can easily send your audience a lot of newsletters to engage with them through emails.
It has a lot of features that you will surely love to have on your website.  It also provides the statistics for your website. Furthermore, it also checks for spam subscriptions so that your website can be secured as well. it seamlessly integrates with external mail delivery services like Amazon SES, Mailgun, and SendGrid. With the help of this plugin, you can easily create, send, and track e-mails for a better experience. 
It's perfect for blogs and small websites. You can control the delivery speed, which is great if you're sending emails through your web host.
Key Features:
Checks spam subscriptions with domain/IP blacklists, Akismet, and captcha so that your website can be secured.
Easy drag and drop builder + customizable themes
WPML Ready
GDPR Compatible
Unlimited subscribers and newsletters
Advanced targeting
Detailed, easy-to-use dashboard
Reports and analytics
Allows you to have unlimited subscribers for your newsletter.
Newsletter with Html and Text message versions
Mailpoet
MailPoet is an all-in-one WordPress newsletter plugin that is the best WordPress Newsletter plugin if you own a blog or eCommerce site. It helps your website visitors to sign up as newsletter subscribers and it also creates the mailing list of your subscribers.
If you want a powerful, highly customizable, and flexible WordPress newsletter plugin, then MailPoet is a great option for you. It provides a feature to automatically send email updates to your subscribers about the latest posts.
MailPoet offers a clean interface and comes with a lot of form design templates. You can easily build and add a beautiful newsletter subscription form and popup to your website with multiple designs according to your theme. It creates a responsive newsletter that looks great on all types of devices.
MailPoet also has an option to schedule your newsletters with this newsletter plugin for WordPress. You can send them the right way, schedule them, or through new blog post notifications. This can all be done automatically with just a few amounts of clicks.
MailPoet will give reports on how many people open your emails and click on links. You can use this data to segment your audience with the targeted emails. For those having an eCommerce website, the plugin offers WooCommerce integration.
Key Features:
The newsletters can be sent from your web host, Gmail, or any SMTP like Amazon SES Mandrill, or Sendgrid.
Manage your subscriber lists in the WordPress admin panel.
Send new post notifications through automated emails.
Compatible with Woocommerce.
Multiple responsive form templates
Send Automated Signup Welcome Emails
Built-in templates and easy customization options
The latest posts are sent automatically you can also send emails three days after the user has subscribed.
You can track the opens, clicks, and unsubscribes for your newsletter.
Mailster
Mailster is one of the most comprehensive email marketing plugins available on WordPress.  It helps you create campaigns within minutes. It offers support for unlimited lists, subscribers, and forms. You can also categorize your audience according to different conditions. With this plugin, you can send emails through any email provider.
It has all the best features you'll need in an email marketing platform, including a drag and drop email builder, autoresponders, detailed yet simplified analytics, and much more. It aims to be a full-service email newsletter solution, helping you to both grow your list and send emails to them.
 You can even send emails through your server or SMTP.  Moreover, Mailster works perfectly with your favorite plugins and services like WooCommerce, Google Analytics, etc. Another excellent feature of the plugin is its real-time analytics. You can track email opens, clicks, unsubscriptions, and even individual subscriber activity right on your screen.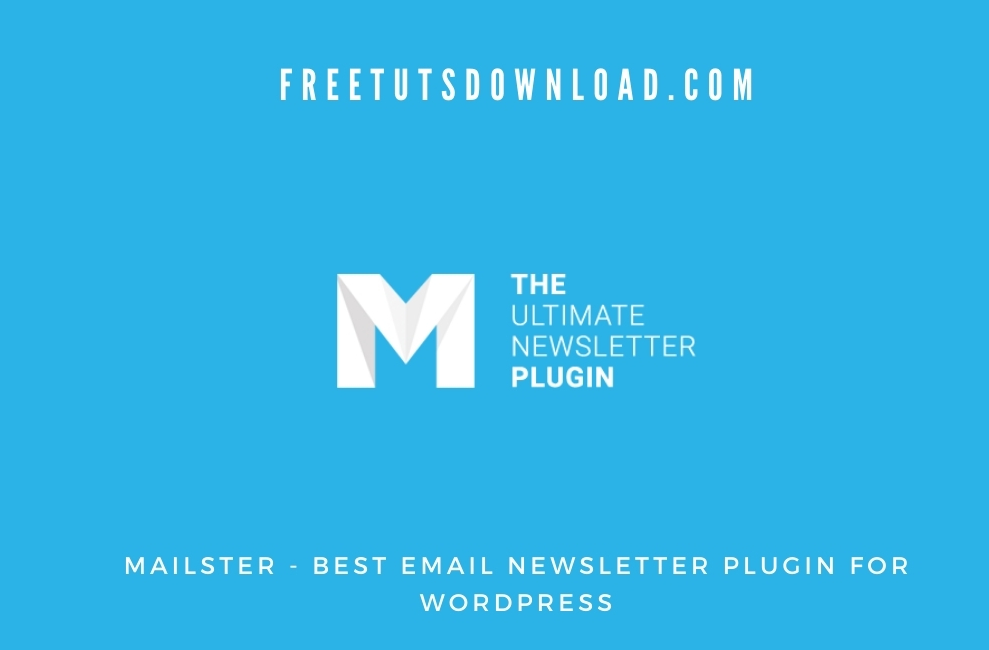 Mailster allows for the storage of an unlimited number of subscribers and lists without having to pay extra fees. You can have more control over your data and assets compared to a different email marketing service.
Key Features:
Schedule your campaigns
Unlimited email subscribers, lists, and forms
Ability to segment emails for better list management
Visualized statistics for each email campaign
Email autoresponders including welcome emails and follow-ups
Integrates with WooCommerce, Google Analytics, Amazon AWS, Gravity Forms, NinjaPopup, and more
You can include the contents of your WordPress posts in the newsletter.
You can track the clicked, opened, bounced, and subscribed emails.
Multiple contact lists can be created, and WordPress users can be imported very easily.
You can schedule the delivery of the newsletters at a suitable date and time.
MailOptin
MailOptin is a WordPress newsletter plugin that serves two purposes, i.e creating a lead generation and sending newsletters from inside your dashboard. It is a good WordPress Newsletter plugin for creating different types of signup forms. It lets you create opt-in campaigns using the WordPress Customizer. Moreover, it has tons of highly customizable form templates.
MailOption helps you to create multiple types of forms and newsletters for your WordPress website so that you can increase the subscriber list easily. The plugin uses the WordPress Customizer as its form builder, with a variety of different templates that you can customize to your requirements.
Therefore includes conversion-boosting features such as A/B testing, scroll trigger, exit intent, and a lead bank with support for major email service providers. It can also send published posts as a daily, weekly, or monthly email digest. It can also send automated newsletters to your list subscribers each time you publish a new post in WordPress.
 To control their content, you'll also get a visual builder that looks a lot like the WordPress theme customizer. You can also use MailOptin to create multiple opt-in types. For instance, you can use lightbox popups, in-post opt-ins, notification bars, and slide-ins.
MailOptin can also be integrated with popular email marketing providers like MailChimp, Campaign Monitor, etc. It also has an autoresponder that can come in very handy for you.
MailOptin also has automation options that can grow your email marketing. It can be used for lead generation as well. Moreover, there are also forms for sidebar/widget forms and call to action as well. The sidebar/widget forms are one of the most popular methods to increase email lists. However, the plugin can be useful to display directed messages to your visitors. The call to action button can urge them to act. 
Key Features:
Works great with all popular email marketing tools.
Integrates with all popular plugins such as Gravity Forms, Contact Form 7, Ninja Forms, WPForms, and many more.
Offers automation for a better experience.
Track and manage all the data in WordPress.
A/B testing
Create Signup Forms in WordPress Customizer
Responsive form templates
Autoresponder, Exit Intent Technology, and Scroll Trigger
Advanced Analytics
Adblock Detection
JackMail
JackMail is a complete and well-made plugin for email marketing. It comes with an easy-to-use drag-and-drop email builder, great user support, and tons of responsive templates making it one of the best WordPress Newsletter plugins. It comes with an easy-to-use drag-and-drop email builder that lets you create responsive newsletter templates.
The plugin lets you send up to 3,000 emails per month for free, if you want to send more, you'll have to pay a whopping $69 per month. And that's only for 5,000 emails per month. Jackmail offers automatic newsletters based on triggers.
You can set up automatic post notifications or send newsletters after certain intervals. One of the unique things about Jackmail is that it has a built-in SMTP server integration. So, your newsletters have fewer chances of ending up in spam folders.
 The plugin is also compatible with a range of third-party opt-in plugins, such as Ninja Forms, Bloom, and Contact Form 7. Jackmail uses a built-in SMTP server and implements calculated anti-spam practices to prevent your emails from going into the spam folder.
Furthermore, the analytics tools are very comprehensive as Jackmail provides in-depth statistics on email openings, link clicks, and average reading time. This data will help you decide on an actionable strategy to encourage subscribers to keep opening and reading your emails. You can also set up automatic newsletters based on triggers.
Key Features:
Tons of newsletter templates
Built-in SMTP server integration
Automatic Newsletters based on Triggers
Beginner-friendly responsive email builder
Automation features for email marketing campaigns
Integration with WooCommerce
Visualized statistics on email campaigns and newsletters
Bloom
Bloom is a beautiful Newsletter plugin for WordPress. It comes with over a hundred newsletter templates and multiple display types for opt-in popups to get more subscribers. Bloom is an email opt-in and lead generation plugin for WordPress. It also provides unique trigger options like displaying the form after visitor comments or purchases.
With Bloom, you can have fully responsive and beautiful opt-in forms in minutes. You can also target specific post types, categories, etc. In addition, it is integrated with various powerful tools to synchronize your job. Whether it is about evaluating the progress of your email marketing, adding/modifying accounts, or checking the lead conversion rate, you can do a multitude of activities with help of this multifaceted tool.
Once you've built a list, you can start sending email newsletters to your subscribers. The opt-in forms help you gather strong leads that matter to your business. These targeted leads will likely have the best open rate for your emails.  Moreover, Bloom can be integrated with 19 different marketing tools. 
Key Features:
100+ Pre-designed Templates
Conversion and Email List Statistics
Six popup types and three form orientation
Trigger options for the opt-in form
Great User Support
SendPress
SendPress Newsletters is a fully responsive, easy-to-use newsletter plugin that focuses on simple creation and powerful scheduling. It offers all the important features that you need to create a stunning and flexible newsletter.
One of the main advantages of this plugin is that it has numerous newsletter templates that are completely customizable which ensures that your newsletter is unique in every aspect. It offers an unlimited number of subscribers, single and double opt-in confirmation, newsletter editor, etc.
Other notable plugin features include Postman SMTP compatibility, Auto Cron (which ensures all your newsletter emails are sent), and helpful online documentation. If you're interested you can also upgrade to Pro to get access to API sending via additional SMTP options, automated bounce management, reporting, customizable HTML newsletter templates, spam score, and premium/priority support.
With the help of SendPress, you can edit and create great newsletters just like you create a post in WordPress. This plugin also provides you the functionality to schedule your Emails.
The plugin allows you to send the email to different email services. And you can get reports about the success of your email marketing campaign by getting the hard data about the opened mail/unopened mails, bounces, and clicks on the links in your emails.
Key Features
Help you to create Unlimited Responsive Newsletters with tracking.
Customizable subscription widget, page, or custom form.
Scheduled Sending of newsletters.
Stat tracking for each email: clicks, opens, and unsubscribe.
Unlimited Subscribers.
Conclusion
The best WordPress newsletter plugins help you. You can use them to create and add newsletter subscription forms and popups to your website. Setting up a newsletter plugin in WordPress requires a little bit of work, but it's suitable for everyone.
WordPress Newsletter Plugins are powerful tools for email marketing and ultimately growing your business. You can easily set up opt-in mails and increase your subscriber count. Some of the best ones in the market even let you track your progress and see reports. Each has its own merits and it depends on your needs of the website. Although most of the features are free, some of the WordPress Newsletter plugins are also available with their premium versions.
The post contains affiliate links, so we may earn a small commission when you make a purchase through links on our site at no additional cost to you.