WordPress is one of the simple and manageable Content Management Systems (CMS). WordPress Strength comes from its feasibility. The feasibility to extend its limitless way beyond is what makes WordPress popular. With tons of themes, useful plugins, and extensive support, you can turn an ordinary business website into something dynamic and powerful. WordPress eCommerce Plugins are the reason to turn any normal WordPress website into a Dynamic one.
Not only does WordPress let you build a dynamic website, but you can also build a robust online store with the help of the WooCommerce plugin. WooCommerce is perhaps the best solution for most online store owners because it's free. WooCommerce is a powerful platform all on its own. However, there are some things it can't do. If you want to build a fully-powered online store, you'll need the help of some of the best eCommerce plugins for WordPress.
Starting an online store can be eye-opening. Apart from basic eCommerce functionalities such as a shopping cart and payment gateways, you might also need a few other tools to boost your conversions and manage customer relationships. Therefore, with WooCommerce only it can be hard to single handle all these. Therefore, You can install several plugins for added functionality to take your online store to the next level.
We have chosen plugins that are free or inexpensive, easy to set up and use, and are well documented and supported. Here's our list of the must-have e-commerce WordPress plugins for every eCommerce site.
1. WooCommerce
WooCommerce is the most popular ECommerce plugin to build your digital storefront from scratch on WordPress. It's a free tool that lets you turn your WordPress website into an eCommerce website easily. It comes with all the powerful features that you need to create an online store. It has been adding more themes and features that are optimized for an eCommerce WordPress website. With its abundance of themes along with unrestricted customization options, ability to sell digital, affiliate, and physical products, and countless conversion optimization tools, it stands unique in the WordPress Plugins.
Features:
Calculates shipping costs automatically.
Works with any WordPress theme.
Tons of customization is available with many themes and extensions offered.
Excellent customer support and documentation.
Inventory management so you can stay organized in your store.
2. MonsterInsights
MonsterInsights is a Google Analytics plugin that lets you connect with Google Analytics so that you can learn exactly how your website is doing by tracking where your visitors are coming from and what they do while on your website and how your online store is performing. The best part is that it shows you all the important stats that matter right inside your WordPress dashboard. Tracking your analytics is a great way to understand what works for your audience. This plugin makes it easy to understand complicated analytics like audience behavior and traffic sources. MonsterInsights tracks eCommerce and provides you with important metrics like conversion rate, total revenue, top referral sources, and top products. Key features of this Google Analytics tool are as follows:
Features:
Real-time stats
Google Analytics dashboard
File download tracking
Track shopping cart abandonment.
See views, button clicks, and conversion rates all in your WordPress dashboard.
3. OptinMonster
OptinMonster is the most popular conversion rate optimization software in the market. It helps you to convert abandoning website visitors into email subscribers and customers. It's also a great plugin if you want to build up your email subscription list and increase your outreach to your loyal customers. With popup templates, personalized messaging, and beautiful opt-in forms you can reach your targeted customers. You can use their hundreds of high-converting templates to create WordPress popups, slide-ins, announcement bars, gamified spin a wheel, and full-screen welcome mats to capture users' attention. This WordPress plugin and application help you skyrocket your eCommerce site to get more email subscribers and sales, fast.
Features:
Tons of tools made specifically for eCommerce sites.
Offers high-converting tools for your store like popups, floating bars, fullscreen mats, and more.
Tons of gorgeous and effective templates.
Easy to use with a drag-and-drop builder.
4. WPForms
WPForms is a plugin that lets you set up a contact form quickly on WordPress with a beginner-friendly interface. It is one of the best ways to increase user engagement with surveys and create simple order forms to sell things on your website. It is one of the popular user-friendly WordPress contact form Plugins. Any business owner needs to have a way for customers to contact them in case they have any questions.
WP Forms can help you create fully responsive contact forms, which you can embed anywhere on your site. You can also choose from pre-built templates and craft customer surveys. Using their drag & drop functionality, you can easily create contact forms, online order forms, payment forms, email subscription forms, polls, surveys, and other kinds of online forms as effortlessly as possible with just a few clicks. There are tons of features of this plugin that make it a must-have for any eCommerce WordPress site. 
Features:
Pre-built templates to create contact forms easily in minutes with the drag and drop builder.
Create anything from simple order forms to wholesale order forms that integrate with Stripe, PayPal, and Authorize.net (Elite plan).
Ability to add a coupon code field to your order forms for promos, discounts, and more.
Make surveys and polls that increase engagement and give you insight into your customers' needs as well as analyze user response.
Multi-page forms to enhance user experience.
Form abandonment to capture email address even though your visitors don't finish
5. All in One SEO
All in One SEO (AIOSEO) is one of the most popular WordPress plugins of all time. It is an amazing eCommerce plugin for WordPress that helps you make sure your content and site are SEO-optimized. Out of all the WordPress SEO plugins, AIOSEO offers the most comprehensive solution with all the features and tools that you need to improve your SEO for eCommerce. The pro version includes more powerful features like WooCommerce SEO, local SEO, smart schema, video sitemap, a news sitemap, and smart redirection manager, the ability to detect & fix 404 errors, advanced breadcrumbs, and much more. It helps you properly add SEO title, meta description, keywords, generate XML sitemaps, connect your site to Google Search Console, optimize it for social media, and more.
Features:
Shows a preview of how your product page will look in search results.
Integrations with social media platforms.
Optimization recommendations.
6. Memberpress
MemberPress is a great WordPress plugin that allows you to build online courses, communities, and membership sites using WordPress. It lets you build a membership website that makes selling digital products a breeze. With MemberPress, you can build a membership option for your eCommerce website. You can create special subscriptions and restrict content access to users based on their subscription plans. A great thing about MemberPress is that they are also compatible with all sorts of popular payment gateways payment solutions like Stripe, PayPal, Authorize.net, and more and with online store plugins such as WooCommerce.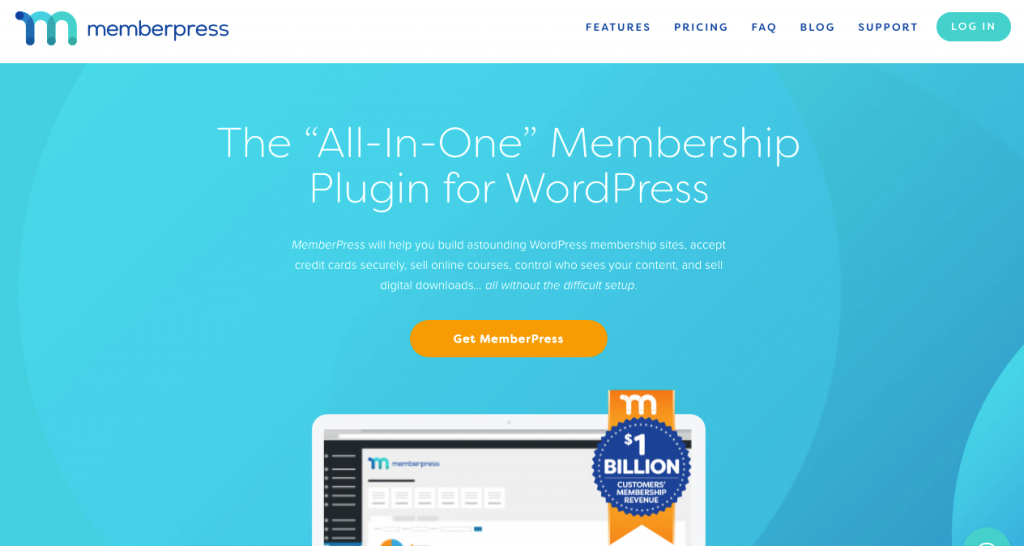 Features:
Integrates seamlessly with WooCommerce.
Includes a course builder so you can make and sell your courses right through the plugin.
Use content dripping to release paid content over time.
Access controls let you customize user access levels so you can restrict content or certain people or open up extra content to others.
7. WP Mail SMTP
WP Mail SMTP is an essential plugin for any WordPress eCommerce website. It makes sure that all the emails your WordPress site automatically sends get delivered to the right person. By default, WordPress uses the PHP mail function to send emails. The problem is that users report that they haven't received an email since the mail goes to the spam. WP Mail SMTP solves this problem by sending WordPress emails using a proper SMTP mail server.
Features:
Works great with WooCommerce and is a great solution if WooCommerce isn't sending emails.
Helps reliably send WooCommerce order status emails like Pending, Processing, and Completed emails.
Keep a log so you can make sure that your customers are getting notices about their orders.
8. WP Rocket
WP Rocket is the best WordPress caching plugin on the market that aids to speed up the loading time of your website. It allows you to instantly improve your WordPress website speed and performance with no technical skills. It automatically turns on recommended WordPress caching settings like gzip compression, page cache, and cache pre-loading. You can also turn on optional features like lazy loading images, CDN support, DNS pre-fetching, magnification, and more to further improve page load times. Most importantly, WP Rocket doesn't wait for someone to request a page to save it in the cache. It automatically crawls and builds your website cache which results in an instant performance boost. It also reduces the weight of your JavaScript, HTML, and CSS files via magnification. Facebook, YouTube, Yahoo are some of the leading websites using this technique.
Features:
Enhance user-end browser caching.
Lazy loading to boost loading times.
Integrate caching solution with a CDN (Content Delivery Network)
Load images on scroll
Compatible with Cloudflare
9. Live Chat
LiveChat is a very handy live chat solution. LiveChat Inc is the best live chat support software for businesses and e-commerce websites. Integrating LiveChat into your WooCommerce store will let you have real-time conversations with your visitors and guide them if they're confused about something. Engaging with visitors is a sure-shot way of making them feel at home, so integrate LiveChat into your WooCommerce store and start chatting with your customers. It has tons of customization options, and it comes with a mobile app, so you can provide real-time support. The chatbox always remains in sight and can be accessed with just a single click. Then, after the conversation is done, your customers can leave feedback and grade their experience with your agent.
10.BackupBuddy
A reliable form of security is to have a backup ready in case you lose all of your customer's data due to a hardware failure or an attack on your host's servers. Setting up a backup for your website should be the first thing that you do and we recommend using BackupBuddy as they are not only reliable but also easy to set up and restore your WordPress website.
11. Quick and Easy FAQs
For some eCommerce websites, having an FAQ section whenever you're launching a new product or service will be helpful if your customers are not familiar with the product itself.
Quick and Easy FAQs live up to their name by letting you add FAQ pages in a relatively quick and easy manner. Adding the FAQ section will also help to reduce customer support overhead and improve conversion, so it's a good plugin to have.
12. Wordfence Security
The Wordfence plugin is dedicatedly designed to keep your site secure. It puts a firewall in place on the website to defend it from malicious traffic. It checks core files, plugins, and themes for bad URLs, malware, SERP spam, backdoors, code injections, and malicious redirects. In addition, it offers a secure login system and scans for malware to block suspicious external attempts. You will get alerts whenever something unusual happens in terms of security on your website. With the following features, Wordfence ensures real-time protection to your website.
13. Appmaker
With the Appmaker plugin, you can easily convert your online store to a native app for both Android and iOS. This will allow your customers to shop in your store. This will take your customer's experience to the next level, so start exploring right away!
Conclusion
WooCommerce is one WordPress eCommerce plugins. However, WooCommerce is not enough. Building an online store comes with many considerations. you need to ensure that your website is fast and fully responsive and that your product presentation is visually appealing. Therefore, you should consider yourself with the best eCommerce plugin for WordPress to help you achieve your business goals. Depending on your business, you may not need to use other WordPress plugins. When you combine it with some of the other amazing plugins for additional functionality, you can create an amazing online store. There are hundreds of other eCommerce WordPress plugins that you can install on your website. We hope this list of the Must have WordPress plugins for eCommerce sites helps you find some plugins that'll help build your online store easily and get you tons of new customers.
The post contains affiliate links, so we may earn a small commission when you make a purchase through links on our site at no additional cost to you.