As a website owner, you put so much of your time and effort into building your site. Why not spend a little more time backing up your site with WordPress Backup plugins?
Backing up your WordPress website files often is important to keep your website safe. It is one of the best ways to protect it. Imagine for any reason your site gets crashed or your site gets hacked. Sometimes as simple as plugins update can crash your site. All your hard work might go in vain.
Therefore, you must realize how important it is to backup your site. Whenever your website crashes for any reason, you can quickly retrieve your site from the most recent backup without losing content and files. Recent backups can help you to quickly recover your website.
You can create backups manually by yourself but, using a WordPress plugin makes the work so simple.  With the help of a WordPress backup plugin, you can easily set up automatic backups on your site and save all your files. Furthermore, you can restore your site from any of the backups in a few clicks with ease.  Most websites can benefit from daily backups or even multiple backups per day. In this article, we'll discuss 5 of the best WordPress backup plugins to keep your site safe:
Why You Should Use a WordPress Backup Plugin?
Although you can backup your site manually, it's not the best practice. To create a full backup, you have to copy all of the contents of your WordPress root folder and export the database. Then you have to decide where to store that backup, locally or in the cloud storage. Once is not enough, then you would begin to find a better solution to save time and make it more productive.
Using the right WordPress backup plugin, you can be in full control of your backup schedule. Plus, you can decide when and how to store those backups, as most plugins enable you to download the files or upload them to cloud services. With a WordPress backup plugin, you can store additional copies of your site in another. In most cases, using a plugin is much cheaper than a WordPress maintenance service, so it's the approach we recommend if you're a DIY kind of person.
5 Best WordPress Backup and Restore Plugins
There are tons of options to choose from. Time to check out the Best WordPress backup plugins. We've listed plugins so that you can be rest assure. Although most of them share similar features, each tool offers a slightly different approach to creating copies of your site. All of them also have strong ratings and reviews, as well as reliable support from their developers.
1. UpdraftPlus
UpdraftPlus is one of the best free WordPress backup plugins available on the market. It allows you to create full backups or only the specific parts you need, such as your database, files, plugins, and themes. With over 3 million active installations, it is also the most popular backup and restores the WordPress plugin. You can also use it to restore any existing backup with a single click from your WP admin panel.
It offers a simple user interface that makes it easy to use for anyone. Also, it is lightweight and fast as it uses up fewer server resources. The plugin supports scheduled backups as well as on-demand backups. You also have the option to choose which files you want to backup. It can automatically upload your backups to Dropbox, Google Drive, S3, Rackspace, FTP, SFTP, email, and several other cloud storage services.
The free version lets you schedule backups to a specific time and automatically backup your WordPress files and database backup too. You can perform manual backups and scheduled backups. Even with the free version of the plugin, you can easily set up full, manual, or scheduled backups of all your website files including your database, plugins, and themes.
Key Features:
Set up automated backups for your website and decide on a complete or partial backup.
Store backups on your site's server or upload them to a cloud storage service
Plenty of add-ons to extend the functionality
Restore backups with a single click from the admin panel
 This plugin has a premium version with features like site migration, clone websites, search and replace, multisite support, priority customer support, and many more. And you can buy UpdraftPlus Premium for $70.
2. BackupBuddy
BackupBuddy is the best WordPress full backup plugin that backs up your entire WordPress site such as all your files in the media library, themes, and plugins. Not only that, but this plugin also provides WordPress database backup.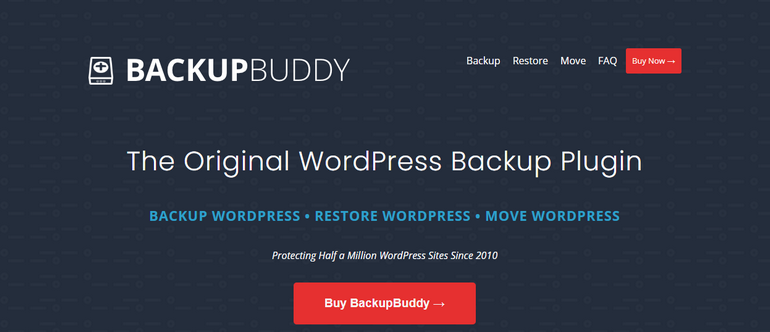 BackupBuddy is a premium WordPress backup plugin used by over half a million WordPress sites. It allows you to easily schedule daily, weekly, and monthly backups or just choose to do it manually. It's really easy to set up. There's a choice of locations for your backups – you can use Amazon S3, Rackspace, or Dropbox for instance.
With just a few clicks, it enables you to backup your entire website from your WordPress dashboard. You can schedule automatic backups, send your backup files to a remote secure location, and restore your files quickly. Once the backup is completed, you can easily download the zip file.
 With every purchase of BackupBuddy, you will get 1 GB of free Stash Live storage. Stash Live continuously backs up your database changes such as new or modified posts, putting your mind at ease. Best of all, Stash Live works perfectly well even if your site is hosted on cheap shared hosting.
Best of all, the plugin offers email notifications when it finishes or needs attention. Additionally, it offers a tool called ImportBuddy. It helps restore your site if anything goes wrong while backing up.  But the free version of the plugin will only get you so far. You need to upgrade to access more features. Furthermore, you can also move or migrate your WordPress website when you need to change domains or hosts.
Key features:
Schedule your automatic backups.
Instant email notifications.
Downloadable zip files.
Offers restoration tool ImportBuddy.
Send your backup files to remote backup storage locations.
Easy restore process
 Pricing: All this comes at a price: if you manage a single site, it'll be $80 a year, $127 for up to ten sites, and $199 for an unlimited number of them.
3.BlogVault
BlogVault is the most reliable WordPress backup service which is trusted by nearly a million successful sites. It claims a 100% success rate with website restorations and it says it's the fastest backup plugin out there. This WordPress backup and restore plugin offers advanced features that make your backups more secure. You can easily create a clone site on the BlogVault server with a single click.  It's a Software as a Service (SaaS) solution rather than just a WordPress plugin.
First of all, the backups are stored offsite independently on BlogVault servers which is available at all times so there will be a zero load on your server because of incremental backups. You can send your backups to remote storage like Dropbox, Google Drive with a click. Data is encrypted and stored securely on Amazon S3 servers. Best of all, the plugin is beginner-friendly and even a non-technical person can easily set it up. The plugin's speed is optimized and doesn't slow down your website at all. That's because all the processing takes place in the BlogVaults server.
 With the help of this plugin, you can migrate your WordPress site effortlessly. It offers a staging site where you can test your site updates and changes safely.  Moreover, you can restore your site from your backup even when your site is down.
BlogVault features are very promising for small businesses, and their real-time backup plan is quite affordable. However if you compare it to self-hosted plugins like Updraft or BackupBuddy, then the cost per site is more expensive.
Key features:
Built-in free staging.
Personal support for every customer.
Manage multiple sites with a single dashboard.
Real-time backup for WooCommerce stores.
Provides incremental backup and effortless restoration.
The free version gives you incremental backups, cloud storage, and even a one-click staging environment.
When it comes to pricing, there's a vast number of options. The cheapest one is $89 per year for a single site. Increase that to $149 and you also get malware protection. Jump to $249 (still for a single site) to get real-time backups and to increase your archive from 90 days to a year.
There are also additional options should you manage 5 sites ($199, $359, and $549), 20 sites ($499, $799, and $1499), and more (pricing is on-demand for that one).
GET THE MOST RELIABLE WORDPRESS BACKUP SOLUTION TRUSTED BY 400,000+ WEBSITES
4. WPvivid Backup
WPvivid Backup allows you to backup, restore, and migrate your WordPress sites. You can automate the backups, restore with one click, and use the cloud for storage. Furthermore, the plugin provides features like an unused images cleaner. You can effortlessly clean all unused images before any backup and migration.
 With this plugin, you can schedule full or partial (database or files) backups for your website on any schedule you want. Once your backups are created, you can download them or upload them to a cloud storage service. You can also restore backups with a single click, and the plugin keeps detailed logs of all of the tasks it runs. With the help of this plugin, you can easily migrate a copy of your WordPress site to a new host.
If you install WPvivid Backup on two websites, you can connect those sites using a secret key.  Then you get the option to make a copy of one of your sites and import it into the other. This feature is perfect if your new host doesn't offer free migrations and you don't want to perform that task by hand.
Key Features:
Create one-click backups
Incremental backups.
Easily schedule your backups
Restore backups with a single click
Advanced remote storage.
Download backup files or upload them to the cloud
Migrate your website using another WPvivid Backup installation
Integrate WPvivid Backup with a MainWP account
The free version is great, but there's also a premium version, WPvivid Backup Pro, that has a lot more customization options.
5.Duplicator
Duplicator is quite possibly one of the simplest backup plugins in the market. It makes it easy to back up all your WordPress files in zip format, so you can download them offline, migrating across the same or different servers. You can move, migrate, or clone a WordPress site between domains or hosts. And all that with zero downtime i:e without any interruptions.
One of the best features of using Duplicator is its ability to clone your pre-configured sites. We can clone a website along with custom settings so that it's a one-click install. The features are pretty minimal, but they are powerful enough to compensate for that lack. You can transfer your site from one host to another easily.
 Rather than manually configuring your favorite themes or plugins, Duplicator allows you to configure a single site and bundle it up.  This way you can migrate your pre-configured WordPress sites to different locations, eliminating the need for reworking.
Like many other popular WordPress backup solutions, Duplicator allows you to schedule backups, send them to cloud storage, and send yourself email notifications.
Key features
Manual backup.
Migrate site with ease.
Optimized for speed.
Easy to use and set up.
Clone, restore, and migrate your site.
Cloud storage to Amazon S3, Google Drive, Dropbox, and more
 The free version is rather limited in terms of usage as well. You have a limit in terms of the size of the backup. 
Conclusion
Having a backup in place can make these difficult situations much more bearable. There's a lot of peace of mind in being able to instantly restore your site to a working state, especially if your business relies on it. With the best backup plugins, you can be safe with your data. 
The post contains affiliate links, so we may earn a small commission when you make a purchase through links on our site at no additional cost to you.